The Inclusion Revolution Comes to Health
People with intellectual disabilities have historically been overlooked by the field of health care. However, thanks to the hard work of many dedicated individuals and organizations, that's changing, and just in time. Consider the information on this infographic: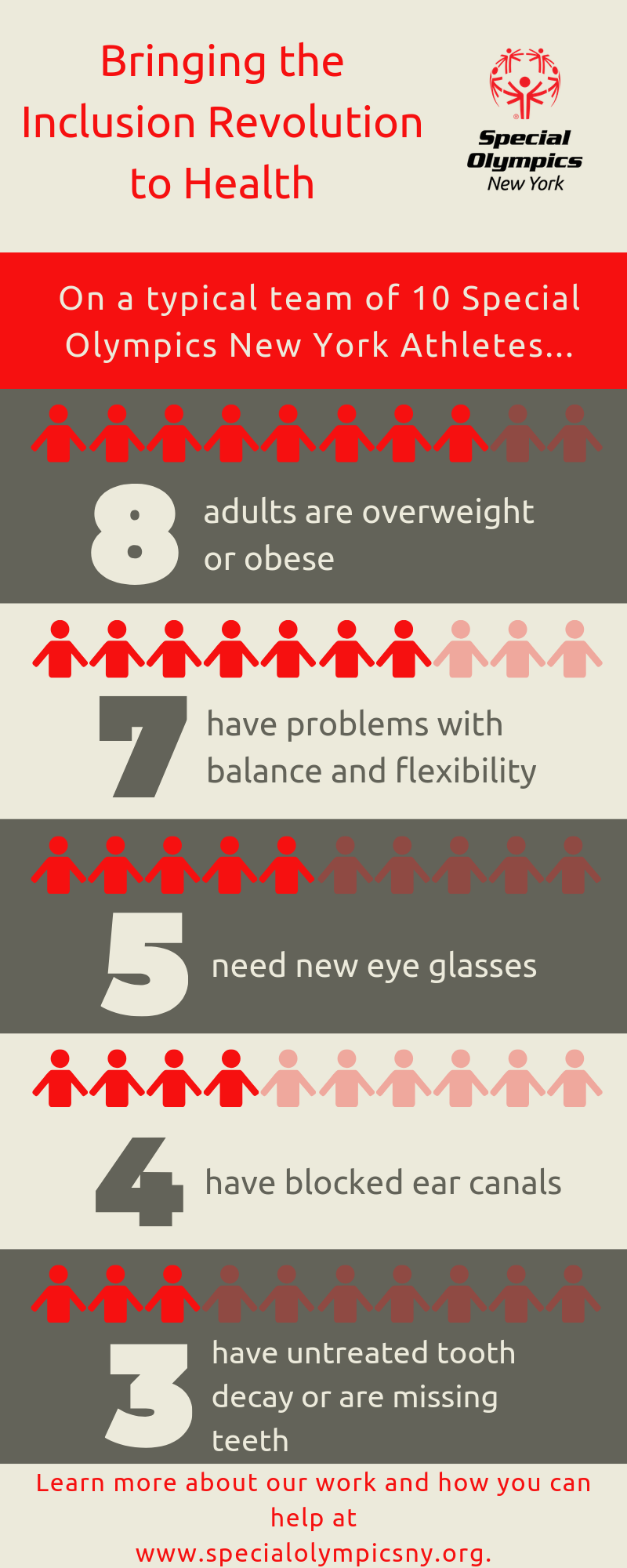 Improvements in health research, changes to our organization, and new accreditation standards are bringing the inclusion revolution to health. Let's take a closer look at what's happened, what's currently happening, and what we can expect in the future.
Representation in Health Research
Many health research projects omit people with ID from their studies or fail to consider them in preliminary designs. If people with ID aren't included in research studies, less can be done to improve their overall health, wellness, and physical fitness. Being a sports organization, we here at Special Olympics NY know the value of physical health, and the ramifications of its absence. That's why we jumped at the chance to be a part of an exciting new research project out of the University of Wisconsin-Madison.
Special Olympics and the University of Wisconsin-Madison are developing a toolkit that will help people with ID and their caregivers become active partners in the research process, and we are proud to have two athletes, two coaches, one parent, and two staff members assisting with the process. Josh Dority, Senior Director of Program for our Western and Genesee Regions, is one of those staff members.
"We got involved because it's our responsibility as an organization to do what we can to ensure that people with intellectual disabilities are represented in mainstream health policies, programs, research, and funding streams," said Dority.
Dority understands the value of this project for people with ID and looks forward to its results.
"The toolkit has many practical applications as a supplement to some existing initiatives like athlete leadership and health messenger training," he explained. "For example, the fifth module guides athletes through the process of telling their own 'health story.' Telling a personal health story can help our athletes advocate for their own needs or help them advocate for the needs of others by providing a clear and specific example. They can then use their health story to prepare for a doctor's visit, be a speaker for an advocacy event or meet with a legislator to change a law that impacts their health and healthcare."
"I am glad to be part of this group," said Jacob Booher-Babcock, one of the two athletes helping with the toolkit. "I think it's a great idea that I am part of research so that I can help doctors help my teammates be healthier and start talking about healthy choices. We train hard and need to take care of ourselves."
"I think [the toolkit] will be a good learning tool for people with disabilities to learn about research and what it means," Sarah Babcock-LoMonaco, Jacob's mother. "I think this was the first time Jacob learned what research is and why it's important. It also got him thinking about his own health and how to be a better athlete."
Health research improvement is an important initiative for us, but it's not the only one we're working on.
Special Olympics NY's Commitment to Health
It's one thing to talk about a commitment to health, but it's far more meaningful to make systematic strides toward improvement. That's why Leanne Fusco has been named Special Olympics New York's Director of Health Programming, a new position in our organization and one that is vital to improving the overall health of our athletes.
Fusco has focused her time at Special Olympics New York on sport and health programming in New York City. Before Special Olympics, she promoted health and wellness among our youth population. She more recently supported national youth-focused health efforts at both HealthCorps and Clinton Foundations' Alliance for a Healthier Generation. Fusco believes Special Olympics NY can set the standard for quality health programs for individuals with ID.
"We have many exciting projects underway and can't wait to implement them," said Fusco, who is also involved in the toolkit research. "We are streamlining our health programming across the state, increasing fitness levels of our athletes, and recruiting health partners and stakeholders in each region to support our efforts.
Though Fusco's appointment is one of the most significant steps forward for our athlete health projects, it's been preceded by several other important efforts. For example, our Healthy Athletes program is entering its 20th year in 2020. We kicked off this year with the launch of #Fit5NY, a five-week program that promotes fitness through social media. This year's State Games included a debut of our Performance Stations, which have been a huge success. You may have guessed, athlete health is a priority of our president and CEO, Stacey Hengsterman.
Fortunately, our work is already beginning to bear fruit.
An Exciting Improvement in Health
In early September of this year, the Commission on Dental Accreditation (CODA) made training with people with intellectual and developmental disabilities a mandatory component of accreditation, following years of advocacy on behalf of the National Council on Disability and others.
"The recent decision by the Commission on Dental Accreditation to require that future generations of dental professionals are trained in treating patients with ID underscores an urgent need for change, and sets the wheels in motion for accrediting agencies across the healthcare disciplines to follow suit," said Hengsterman. "We look forward to working with dental schools in New York as they begin providing this long overdue educational component."
How Can You Get Involved?
We've come a long way, but there's more work to be done. If you'd like to learn more about Special Olympics NY's health initiatives or join the revolution, click here or contact Leanne directly, at lfusco@nyso.org.
Every contribution makes a difference. You can support our health programs by making a donation here.
SHARE THIS: