Winter Games
February 22 @ 6:00 PM

-

February 23 @ 10:00 PM

EST
Special Olympics New York is proud to announce that our athletes and coaches will travel from all across the state to compete in a variety of winter sports at venues within the Greater Rochester Area this February 22-23, 2019. There will be 6 sports offered;  Alpine Skiing, Cross-Country Skiing(Nordic), Figure Skating, Floor Hockey, Snowboarding and Snowshoe.
The Honorary Chair of the Winter Games is Monroe County Executive, Cheryl Dinolfo. The Winter Games Organizing Committee is led by Co-Chairs Dennis Mullen, The Mullen Group and Maggie Brooks, Regional Transit Service.
Opening Ceremonies: Friday, February 22 at 8 PM at Riverside Convention Center, featuring the Parade of Athletes, entertainment and the lighting of the Special Olympics Cauldron.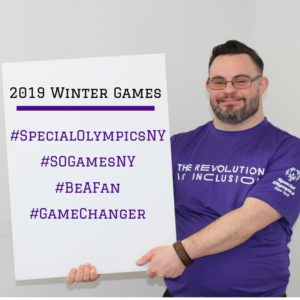 Athletic Competition: Saturday, February 23, in six Olympic-style sports.
Service Volunteers and Fans in the Stands are needed at Opening Ceremonies and all competitions!
Thank you for your interest in volunteering for our upcoming Winter Games in Rochester. Our online registration is now closed, however you can still register on-site at each venue. Choose your volunteer job by downloading the INFO SHEET below, follow the instructions outlined and join us the day of the event!
2019 WG Volunteer Helpful Hints
Alpine Skiing 'Fans' Information Sheet
Alpine Skiing Information Sheet
Cross Country Skiing 'Fans' Information Sheet
Cross Country Skiing- Information Sheet
Fans. Floaters Information Sheet
Figure Skating 'Fans' Information
Figure Skating Information
Floor Hockey Breakdown Information Sheet
Floor Hockey 'Fans' Information Sheet
Floor Hockey Set Up Information Sheet
Opening Ceremonies 'Fans' Information Sheet
Opening Ceremonies Information Sheet
Snowshoe Volunteer 'Fans' Information Sheet
Snowshoe Volunteer Information Sheet
Snowshoe-Swain- Volunteer 'Fans' Information Sheet
Social Ambassador Volunteer Information Sheet
Special Olympics New York's 2019 Winter Games snowshoe competition will no longer be held at Cobbs Hill Park due to the lack of snow in the area. The new location for the event will be held at: Swain Resort, 2275 Co Rd 24, Swain, NY 14884.
SHARE THIS: