Patricia Martinelli
Attorney (retired)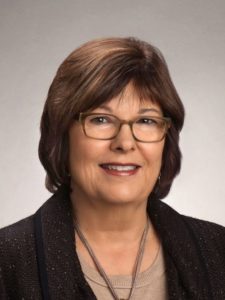 "Serving as Chair of the Board of Special Olympics New York has been a great honor. Each day, the courage and determination of our athletes inspire me to be the best I can be and enhance my appreciation of the unique value of every person." 
Patricia Martinelli is a retired attorney who formerly served as Deputy Commissioner and Counsel to the New York State Office for People with Developmental Disabilities. Previously, she was an Assistant Deputy Attorney General in the NYS Office of Attorney General, with responsibility for overseeing the legal representation of the State and its agencies and employees.  She also served as Legislative Counsel to the Women's Bar Association of the State of New York, the Enforcement Counsel to the NYS Board of Elections and Legislative Coordinator on the Speaker's staff of the NYS Assembly.  Patricia started her legal career at the law firm of Kreindler and Kreindler, where she participated in the representation of victims of exposure to asbestos.
Since retiring, Ms. Martinelli has served as a consultant to the New York State Office for People with Developmental Disabilities, a member of the Governor's Family Health Care Decision Act Advisory Committee, and as a volunteer attorney for both the Legal Aid Society of Northeastern New York and Disability Rights New York. She also planned and led a conference on the legacy of Willowbrook at Albany Law School.
In addition to her years of service as a director and Chair of Special Olympics New York, Patricia has served on various boards, including the boards of Capital District Women's Bar Association, The Legal Project, Albany Academy for Girls, Congregation Ohav Shalom, and Upper Hudson Planned Parenthood, as well as on the Advisory Boards of  Albany Law School Government Law Center and the Center for Women in Government. She also co-chaired a Parent Support group for the East Greenbush Central School District, providing education and support to parents of students with disabilities. Patricia is the recipient of the Women of Excellence Award, Public Sector Management, from the Women's Business Council of the Albany/Colonie Chamber of Commerce.
Patricia is a graduate of  University at Albany (BA in Psychology) and of NYU Law School.