Kevin Brown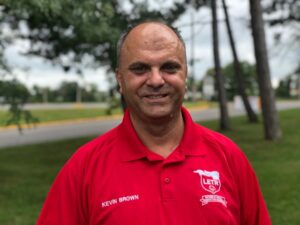 "Special Olympics New York has provided me with many opportunities to interact with people from many different races and cultures. It has given me and my fellow athletes a place where we can prove to everyone that people with disabilities can work hard and be successful in life. It is important to me to inspire others and an honor to serve on the Board of Directors."
Kevin Brown currently works for the FBI managing the mail room and helping with support services. He is also a Special Olympics New York athlete participating in volleyball, bowling, softball and track & field. He also serves on the Law Enforcement Torch Run International Executive Council.
Kevin joined the Special Olympics NY program when he was 8 years old and has been actively involved for 46 years, competing locally, nationally and internationally. In 1992 he became part of the first Athlete Ambassador class which helped him communicate his story and his efforts to elevate his life through sports. He is now an Athlete Messenger for Special Olympics New York, spreading the mission of the organization. As a leader and message-bearer of the movement, Kevin communicates the powerful declarations of hope, acceptance, dignity and courage of Special Olympics NY athletes.
It is an honor for Kevin to serve on the Board of Directors so all athletes have a 'voice' at the highest level of the organization.