Joseph Barca
State Director, Law Enforcement Torch Run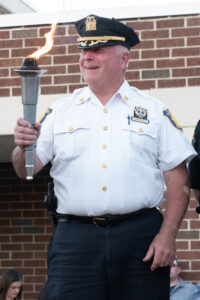 Retired Yonkers Police Captain
"I was introduced to Special Olympics in 1986 when the Torch Run came to New York. I have been a Torch Runner and a supporter ever since. After 46 years of service, I can say that I never worked a day in my life. If you love what you do, it's not work."
Joseph Barca currently serves as the State Director of the Law Enforcement Torch Run for Special Olympics New York, which includes more than 6,000 members statewide who work to raise awareness and funds for athletes and programs.
Barca is married to his wife, Helen, and has three sons: Chris, a Yonkers Police Officer / K-9 handler & instructor, David, a Police Sergeant assigned to the Emergency Service Unit, and Matthew,  Yonkers school teacher.
Barca retired from the Yonkers Police Department in 2015. In 2019, he received the John Carion Unsung Hero Award at the annual LETR International Conference.