Dr. Abra Caroci
Pediatric Dentist
"It all started while in dental school. I volunteered at the Special Olympics Special Smiles and never stopped. Special Olympics events allow current and future clinicians to meet athletes on 'their own turf' as a person first, and not as a patient, and that makes a real impact."
Dr. Abra Caroci is a pediatric dentist committed to offering children and families high quality service and care for long lasting healthy smiles. He graduated from Arizona School of Dentistry & Oral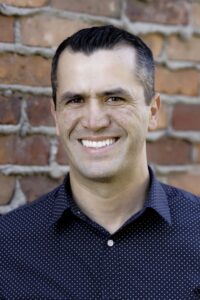 Health at A.T. Still University and also received a certificate in Public Health. He moved to Rochester in 2013 and completed a General Practice Residency (GPR) and Pediatric Dentistry Residency at the Strong Memorial Hospital/University of Rochester Eastman Institute for Oral Health.
Dr. Caroci's training included hospital dentistry, management of trauma, infections, sedation, dental treatment under general anesthesia and special needs patients. He also completed a one year fellowship in the Leadership Education in Neurodevelopmental Disabilities (LEND) program. This collaborative interdisciplinary training focused on improving the health of children with neurodevelopmental disabilities and special health care needs.
Dr. Caroci is a 2018 recipient of the Golisano Health Leadership Award for New York — the highest regional honor for Special Olympics health partners. He is also a board member of the American Academy of Developmental Medicine and Dentistry, which focuses on integrating the medical and dental fields to serve people with intellectual and developmental disabilities.
Dr. Caroci was born in Brazil from an Italian father and Brazilian mother and fell in love with pediatric dentistry while working alongside a volunteer dentist during a dental mission in the Amazon. At the time, he was completing a Masters degree working with malaria vectors and mosquitoes in the field of epidemiology and biomedical sciences. He continued his research and worked towards a Ph.D., spending four years as a Research Scholar at the University of Arizona and the University of California, Irvine. After this time, he decided to finally follow his true passion and changed career paths to pediatric dentistry. He also found a passion in serving those with special needs both locally and internationally.
Dr. Caroci began working with Special Olympics Special Smiles in Arizona and then went on to be a part of a research delegation in two Summer Olympic Games in Athens, Greece and Los Angeles. After moving to Rochester, he became the Special Olympics Special Smiles Clinical Director to help coordinate projects, locally and statewide in New York.
Dr. Caroci is married to a lovely girl from the Midwest and with four children of his own, he knows that each child is different and that care needs to be individualized. He is committed to providing this high quality individualized care and developing lasting trustful relationships with his patients and families. In his spare time, Dr. Caroci likes taking road trips with his family, volunteering with Special Olympics, hiking, cooking Brazilian food for friends and playing soccer.