Special Olympics World Games Greatest Hits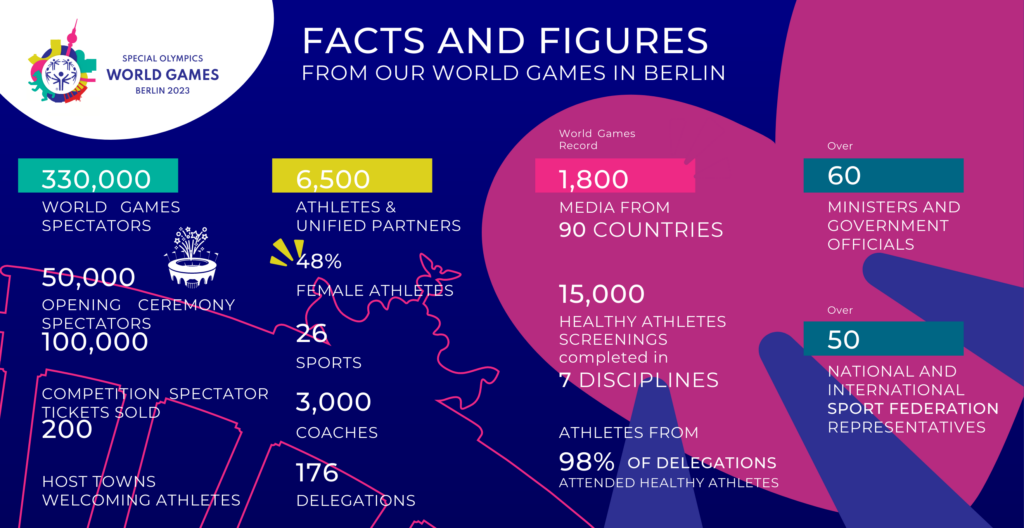 The 2023 Special Olympics World Games may be over—but we've got memories to last a lifetime. In this article, we collected our greatest hits from eight days in Berlin and gathered them all in one place. Enjoy!
---
The City Hawks Join Good Morning America: Watch as Robin Roberts interviews our coaches and athletes about what it means to represent their country. 
Spotlight on Stacey Weimer: Meet Stacey and find out what made her such a fierce competitor at World Games. 
Spotlight on Sean O'Rourke: He's an iron man, a marathon runner, a triathlete, and more. In this article, learn more about Sean and his intense preparation for the world stage.
Spotlight on Amanda Vito: Find out why Amanda is a hero in her hometown in this RochesterFirst.com article.
Jeff Wilson Runs in the Final Leg: New York LETR all-star Jeff Wilson carried the Flame of Hope all the way to Berlin.
Daniel Block Takes His Officiating International: Daniel had the pleasure of officiating soccer at World Games. Find out more about his experience in this article.
Happy Father's Day, Joe Stewart: City Hawks Assistant Coach (and new father) Joe Stewart discusses how his recent fatherhood informs his coaching.
World Class Sportsmanship: The City Hawks made their home country proud by staying to congratulate their opponents on the accomplishments.
Ask Our Experts: For those with questions about World Games, we offered the services of our staff, coaches, and athletes to provide their expertise.
Our World Game Photo Gallery: A collection of some of our favorite images from eight days in Berlin.
Opening Ceremonies on ESPN: Watch as athletes from around the world are welcomed on our biggest stage. (Plus, Special Olympics New York athlete Trent Hampton delivers the Officials' Oath!)
City Hawks on ABC: ABC and ESPN only selected 10 athletes and teams to highlight on their "Best Of" roundup show…and our City Hawks were one of them! Check out this inspiring clip.
And check out these amazing results from all our competitors:
Sean O'Rourke, 25k Road Race, 4th place
Sean O'Rourke, 10k Time Trial, Gold medal
Sean O'Rourke, 15k Road Race, 7th place
Stacey Weimer, 10k Time Trial, Bronze medal
Stacey Weimer, 2k Time Trial, 7th place
Stacey Weimer, 5k Road Race, 4th place
Amanda Vito and Martha Pachuta, Level 3 18-hole, Participation ribbon
SO USA Unified Soccer Team, 5th place
---
Congratulations to all the athletes from the United States and around the world. In words of Special Olympics Founder Eunice Kennedy Shriver, "you are the stars, and the world is watching you."
SHARE THIS: