Taking a Hike: How the Genesee Region's Unified Hiking Club Fosters Fitness, Friendship, and Fun for its Members
When one thinks of Special Olympics New York, hiking probably isn't the first event that comes to mind. However, it's just one of the many fitness opportunities we've helped develop throughout New York State that encourages our athletes, friends, and fans to stay healthy between (and even during) sports seasons. Take the Genesee Region's Unified Hiking Club as an example.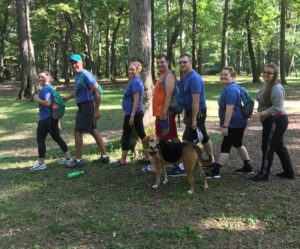 The Unified Hiking Club features 17 hikers who walk together every Tuesday. Their goal is simple: be active, make friends, and enjoy the outdoors.
The club began with a grant from Special Olympics International. Since then, it's expanded into a year-round activity. Participants are encouraged to attend at least six sessions, but the club is ongoing, even during traditional sport seasons. For those involved, it's an amazing opportunity for both fitness and socialization.
"My favorite part of the hiking club is meeting new friends and enjoying new adventures at the park," said Jordan, a Special Olympics NY athlete and Unified Hiking Club member.
Other regions are seeing the benefits of clubs like this as well. For example, Athlete Congress Members from our New York City Region have created a hiking club of their own. They too meet weekly, and they hike to encourage fitness and friendship.
To be clear, these hiking clubs are not competitive events. Unlike our teams and training clubs, members are not preparing for local, regional, or super-regional competition. The hiking clubs are, however, cooperative activities that foster comradery and good physical health—much like our core 22 sports. So though they're not our main focus, activities like these hiking clubs are definitely within our wheelhouse.
Said Betsy Mihm, Director of Program in the Genesee Region, "Our Unified Hiking Club brings together Special Olympics athletes, friends, and family members to learn about hiking and healthy lifestyle habits."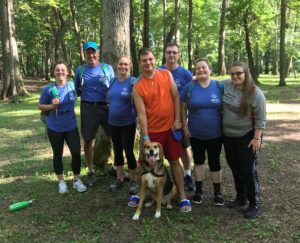 Here at Special Olympics New York, we've made the health and wellness of our athletes a priority for 2019 and beyond. Ongoing initiatives such as the Genesee Region's Unified Hiking Club, the NYC Region's hiking club, and Fit 5 NY help keep our athletes fit and active for their sports seasons, and for life.
"New York has historically led on issues that threaten inclusion and equity for its citizens," wrote Special Olympics New York President and CEO Stacey Hengsterman in a 2018 article. "Working to prevent health disparity for people with ID [intellectual disabilities] is an issue we can no longer afford to sit back and watch on. It's time for New York to get in the game."
Programs like the Unified Hiking Club prove that we're serious about these objectives.
If you're interested in starting a similar activity in your area, contact your regional office. We can't wait to hear from you!
SHARE THIS: