Unified Champion School Spotlight: Churchville-Chili High School
Churchville-Chili School District, which serves approximately 4,250 students in grades K-12 in Monroe County, introduced Special Olympics Unified Basketball at the high school in 2015 and added Unified Bowling in 2019.
Unified Coach Katie Cobstill says much of the success of Churchville-Chili's program can be attributed to its Youth Activation Committee (YAC), which from the beginning has met regularly to supplement it sports with activities aimed at engaging the entire school community in inclusion. Below is our recent interview with Coach Katie.
How did you get started with Unified Sports?
When I first saw the impact Unified Sports had on the school climate at Churchville-Chili High School, I knew I wanted to be involved in some capacity. During the 2019-2020 school year, I was the Churchville-Chili Unified Bowling coach and the Youth Activation Coordinator. I am a High School Special Education teacher in the district and have been very involved in sports my whole life. I played soccer and basketball from the time I was 5 years old and continued playing basketball in high school and college. Unified Sports meshes my two passions of Special Education and sports.
What do you find most rewarding about coaching Unified?
That's an easy one – seeing the connections and true friendships made between students with and without intellectual disabilities on and off the court. Everyone feels included and gets the opportunity to be a part of a team.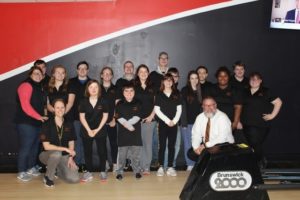 Playing Unified helps build students' confidence, improves their social skills, creates lifelong friendships and helps everyone feel like they are a part of something really special. Over the years, we have had a few Unified members who have actually changed their career path to working with people with special needs because of their experience with our Unified program.
Off the court, the change in the culture has been incredible to witness. Students with significant special needs and typical high school students are seen high-fiving in the hallways, eating lunch together, attending school events together and developing genuine friendships. This program is truly changing a generation.
Tell us about your student athletes.
We have between 20 and 30 students participate in our Unified Sports teams in recent years. Some students choose to be involved on a sports team and as a member of YAC, and some just choose one or the other. Either way, everyone is treated as a member of our Unified community and we work together to involve everyone at the school. This is something the previous YAC advisor and current Unified Basketball coach have done an incredible job with over the last five years. The impact I've seen has been absolutely amazing.
Has your Unified community stayed connected during the COVID-19 health crisis?
Yes! When Special Olympics New York invited us to participate in Fit5 challenge while we were all at home during the pause, Churchville-Chili jumped at the opportunity, and it has really paid off.
One of our kids told us last week that Fit5 has totally transformed her health. I asked her if she had made favorite cookies and she said, "No, I'm eating more fruits and veggies instead," and added that she has been keeping a daily health journal to track her progress. Others have told me Fit5 has helped remind them to drink more water and exercise during this time. We've utilized a Unified Google Classroom to post reminders about Fit5, we've presented at some of the Section V YAC summits, and we meet weekly through Zoom to keep in touch and encourage one another to stay active and healthy.
Keeping our community together during this time with the help of Special Olympics New York has made such a difference. Our student athletes – those with and without intellectual disabilities, equally – have really benefited from the social engagement.
Any advice for school districts considering the addition of Unified Sports?
I strongly encourage any schools not participating in Unified Sports to check it out! Since the inception of our program 5 years ago, Unified has truly been a life-changing experience for everyone involved. Including a Unified Club to support the sports program itself is important as well. Our Youth Activation Committee meets monthly throughout the school year, with its advisor, to plan and support upcoming Unified events. This student-led committee is really what keep our program running as smoothly as it does.
SHARE THIS: