Thank you, Rochester!
By Stacey Hengsterman, President and CEO of Special Olympics New York
Athletes and coaches from across New York descended upon your region this past weekend for the 2019 Special Olympics New York Winter Games. You were there for us – thousands of you, from organizers and volunteers to sponsors and fans – arms wide open with the biggest hug we could've ask for.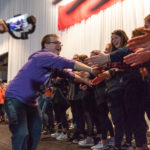 On behalf of our athletes, coaches, families, and staff statewide, I want to once again extend our deepest thanks to:
Monroe County Executive Cheryl Dinolfo, honorary chair of the Winter Games. You were there with us from the beginning, spontaneously putting on ice skates at the kickoff event, inspiring our athletes at opening ceremonies, and rallying Monroe County to show up for us in the biggest possible way.
Our Volunteer Games Organizing Committee led by Co-chairs Dennis Mullen, president and founder of The Mullen Group, and Maggie Brooks, vice president of strategic initiatives for the Regional Transit Service. You met monthly, raised the money we needed, problem-solved, and cheered us on. You are our friends for life.
Alexis Arnold, media ambassador and emcee extraordinaire. You have become one of us, sharing our story and being a part of it. We are so grateful for your sparkle, ideas, and encouragement. You are gold medal material.
The many local clinicians, medical professionals, and students who ensured that athlete health was addressed throughout the weekend, by volunteering to staff our performance stations and health screenings. This component of our statewide Games is absolutely critical and you all made it happen.
Our event sponsors. With your ongoing support, you send a message to our organization and to the community that inclusion matters. You recognize the importance of who we are and what we do. We couldn't do it without you.
Our partners in the law enforcement community, whose members are at every Special Olympics New York event in droves, always showing our athletes that they, too, are heroes.
And finally, each and every of our more than 1,000 volunteers. Whether you set up our floor hockey courts, kept the Games on schedule, helped us capture the event on social media, or spent the day cheering from the stands or the side of a mountain, your presence enhanced the spirit, excitement and fun. You are the best.
Rochester, you exemplify inclusion. We feel your respect and admiration. We feel your love, and we love you too. Next year. Same time, same place. See you there, Game Changers.
###
It's never too early to start showing you support for Winter Games 2020 in Rochester. Visit Special Olympics New York to make a donation online, or send an email to volunteer@nyso.org to get in the game.
SHARE THIS: