SPECIAL OLYMPICS NEW YORK, HANNAFORD SUPERMARKETS ANNOUNCE PARTNERSHIP TO PROMOTE ATHLETE HEALTH
Monday, May 20, 2019
Schenectady, NY – Special Olympics New York and Hannaford Supermarkets today announced an expanded partnership to promote athlete health, including the introduction of a Hannaford Healthy Snack Shack at local sports competitions and a blog series focused on nutrition and exercise to improve athletic performance.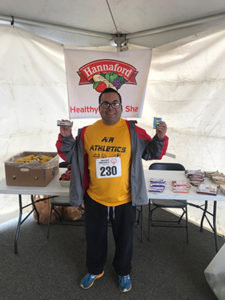 The first blog, "Top 10 Tips to Fuel Your Fitness Goals," by Hannaford Online Dietitian Anne L'Heureux, was published today.
"Special Olympics New York athletes know that the healthier they are, the better they will perform when it comes time for training and competition," said Special Olympics New York President and CEO Stacey Hengsterman. "On behalf of the thousands of athletes here in the Capital Region and across New York who will benefit from Hannaford's Snack Shacks and nutrition expertise – thank you."
"Hannaford Supermarkets is proud to play an active role in supporting all of the communities we operate in, and these athletes exemplify the kind of focus on an active and healthy lifestyle we should all aspire to," said Hannaford Community Relations Specialist Brain Fabre. "Our partnership with the Special Olympics allows us to provide support, encouragement and resources in a way that has real value for those being served."
Hannaford has supported Special Olympics New York in a broad capacity for many years through Capital Region initiatives such as providing sponsorship and volunteers for local sports competitions and participation in the Lake George Polar Plunge.
Earlier this year, Special Olympics New York launched #Fit5NY, a five-week program that challenges participants to exercise five times per week, eat fruits and vegetables five times per day, and drink five bottles of water per day. The program created an online #Fit5NY community where athletes, friends, and fans of the organization share their stories, and encourage one another during the challenge.
###
About Special Olympics New York
Special Olympics New York is the largest state chapter in the country, serving more than 67,000 athletes across New York with year-round sports training, athletic competition, and health screenings. The organization also partners with nearly 150 schools statewide to offer unified sports. All Special Olympics New York programs are offered at no cost to athletes, their families or caregivers.  Learn more at www.specialolympicsNY.org and #SpecialOlympicsNY.
MEDIA CONTACT: Casey Vattimo, cvattimo@nyso.org, 518.992.4820
SHARE THIS: