Special Olympics New York Awards St. Bonaventure Professor with Highest Honor for Health Professionals
Dr. Claire Watson Received the Award at Unified Basketball Event on Campus Today
St. Bonaventure, NY – Special Olympics New York President & CEO Stacey Hengsterman today presented the Golisano Health Leadership Award to Dr. Claire Watson, St. Bonaventure assistant professor and founding director of the University's Public Health, Health Science, and Master of Public Health programs.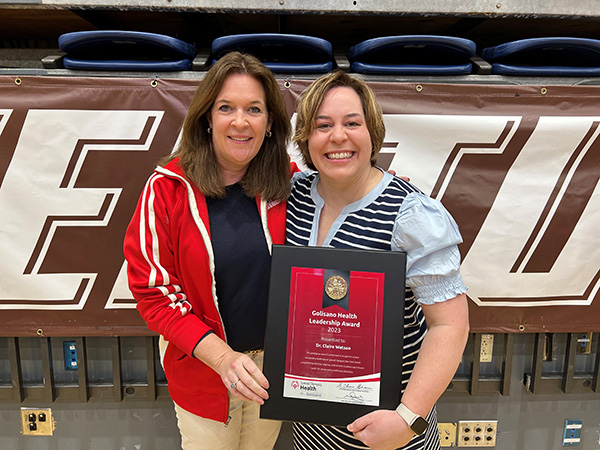 The Golisano Health Leadership Award recognizes deserving individuals and organizations that make significant contributions to both Special Olympics Health Programs and the promotion of healthcare, wellness, and fitness for people with intellectual disabilities.
Dr. Watson received the award during Opening Ceremonies of a Special Olympics New York Unified Basketball event held on campus today. Following the competition, more than 150 athletes were able to receive free health screenings as part of the Special Olympics Healthy Athletes program that Claire volunteers her time to coordinate in Western New York.
"Claire has been a trailblazer for the Special Olympics movement in Western New York and across the state," said Hengsterman. "With her leadership, we are able to offer the highest level of free health programming for our athletes while also training the next generation of medical professionals in providing quality care to people with intellectual disabilities."
"I am so honored to accept this award. Special Olympics New York and St. Bonaventure University have done so much good for athletes, medical professionals and the community. I share this award with everyone who has been a part of the movement. "
Dr. Watson has been involved with Special Olympics New York since 2014, when she first helped oversee the health promotion activities included in the St. Bonaventure event. She later became a clinical director for Special Olympics New York and provided services for athletes from across the country at the 2018 USA Games in Seattle, Washington.
Since that time, she has contributed to the training of close to 200 students and colleagues in the field, making a significant impact on the future of healthcare for people with intellectual disabilities. She has also represented the state at the American Academy of Developmental Medicine & Dentistry (AADMD) conference and is a member of the Special Olympics New York Health Advisory Council.
Previous New York recipients of this distinguished award include Dr. Steven Sulkes, University of Rochester Professor of Developmental & Behavioral Pediatrics (2016); Dr. Vincent Siasoco, Metro Community Health Center's Chief Medical Officer (2019); and Dr. Abrahim Caroci, pediatric dentist and member of the Special Olympics New York Board of Directors (2018).
###
About Special Olympics New York
Special Olympics New York is the largest state chapter in the country, serving more than 42,000 athletes across New York with year-round sports training, athletic competition, and health screenings. The organization also partners with more than 200 schools statewide to offer Unified Sports, where students with and without disabilities compete as teammates. All Special Olympics New York programs are offered at no cost to athletes, their families or caregivers. The organization has earned the Platinum Seal of Transparency from GuideStar.com, making it one of the most trusted charities in the business nationally. For additional information about Special Olympics New York, to learn more about getting involved, or to make a donation, visit www.specialolympicsNY.org.
SHARE THIS: