Special Olympics New York Announces 2021 Coach of the Year Nominees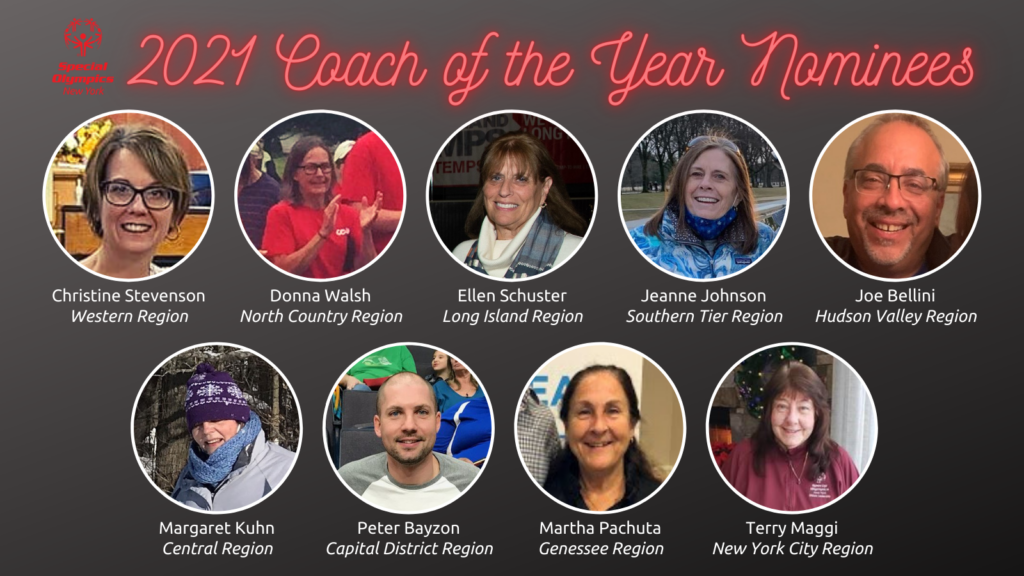 ALBANY, NY – Special Olympics New York today announced the nominees for 2021 Coach of the Year, the highest state-level honor awarded to a member of its volunteer coaching corps.
"Special Olympics New York coaches stepped up more in the past year than we ever could have imagined," said Special Olympics New York President & CEO Stacey Hengsterman. "Coaches nominated for this year's award have continued to be here for our athletes during a global health crisis. They found ways to coach virtually and to ensure our athletes remained physically active as well as socially connected. We cannot thank them enough."
The 2021 Coach of the Year will be named during a virtual Winter Sports Season Celebration Thursday, March 18. The celebration takes the place of Special Olympics New York's annual State Winter Games, which were unable to be held in person this year. More than 800 Special Olympics New York athletes and coaches participated in the Winter Sports Season, which included training and competition in-person and at-home, and the organization's first-ever esports season.
Coach of the Year nominees, one per region, have gone above and beyond in their service to athletes – not only fulfilling their traditional role as a coach but also supporting athletes year-round to ensure a healthy lifestyle as well as opportunities to be included in the community. The 2021 Special Olympics New York Coach of the Year nominees are:
Martha Pachuta, of Perry, Genesee Region: Martha has been a Special Olympics New York coach for decades. She is a sport director and clinician for Alpine, Swimming and Golf. She led athletes in several new health programs during the pandemic, including live webinars and piloting a fitness app for Special Olympics International.
Margaret Kuhn, of Wampsville, Central Region: Margaret has been a leader in the movement for more than eight years as a coach, fundraiser and ambassador. Over the years, she has helped grow the program locally and she continued to meet with athletes weekly throughout the pandemic.
Joe Bellini, of Katonah, Hudson Valley Region: Joe has been a coach for more than 25 years, coaches seven sports and serves as sport director for basketball. He has led his athletes to two World Games and helped to train many other coaches over the years.
Jeanne Johnson, of Vestal, Southern Tier Region: Jeanne has coached 10 different sports throughout more than 20 years as a Special Olympics New York coach. She has kept athletes connected and motivated throughout the health pandemic, leading them in all three Sports Seasons at Home. She is a consistent volunteer and fundraiser for the region.
Ellen Schuster, of Medford, Long Island Region: Ellen has been a swimming and softball coach for more than 15 years. She has continued to coach throughout the pandemic, opening up her virtual practices and helping athletes compete in two Sports Seasons at Home. She is also a leader for the region in recruitment and fundraising.
Terry Maggi, of Bayside, New York City Region: Terry has coached for more than 20 years in six different sports. She has played a leadership role in mentoring the statewide Athlete Leadership Council, started the region's first hiking club, is a consistent fundraiser for Special Olympics New York and serves on the statewide Health Advisory Council.
Donna Walsh, of Saranac Lake, North Country Region: Donna has been coaching or more than 20 years. She has coached six different sports, consistently participates in local fundraising events and formed the region's first Unified Bowling program.
Christine Stevenson, of Youngstown, Western Region: Christine has been a soccer coach for five years. She became one of the region's most active coaches during the pandemic, adding the Sports Seasons at Home and esports league to her portfolio.
Peter Bayzon, of Troy, Capital Region: Peter coaches softball, unified softball, basketball, floor hockey and track & field. He also participates in several regional fundraising events for Special Olympics New York throughout the year.
###
About Special Olympics New York
Special Olympics New York is the largest state chapter in the country, serving more than 68,000 athletes across New York with year-round sports training, athletic competition, and health screenings. The organization also partners with about 250 schools statewide to offer Unified Sports, where students with and without disabilities compete as teammates. All Special Olympics New York programs are offered at no cost to athletes, their families or caregivers. The organization has earned the Platinum Seal of Transparency from GuideStar.com, making it one of the most trusted charities in the business nationally. For additional information about Special Olympics New York, to learn more about getting involved, or to make a donation, visit www.specialolympicsNY.org.
SHARE THIS: