Special Olympics New York Advocates for Inclusion, Unified Sports, Health During Capitol Hill Day 2020
Washington, DC – Special Olympics New York President & CEO Stacey Hengsterman and Athlete Kathleen Maggi, of New York City, are leading a delegation of advocates today on Capitol Hill in Washington, DC. They join Special Olympics athletes, program leaders, Unified Sports partners, and family members from 47 programs across the country for the 18th annual Capitol Hill Day.
In face-to-face meetings with Members of Congress in both the House and Senate, Special Olympics representatives are inviting elected officials to support inclusive education and health initiatives for people with Intellectual Disabilities (ID). This includes Special Olympics Unified Champion Schools® programming, which is active in more than 7,500 schools across the United States, nearly 250 of which are in New York. Special Olympics is also working to end health care disparities for Americans with ID.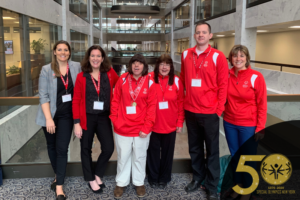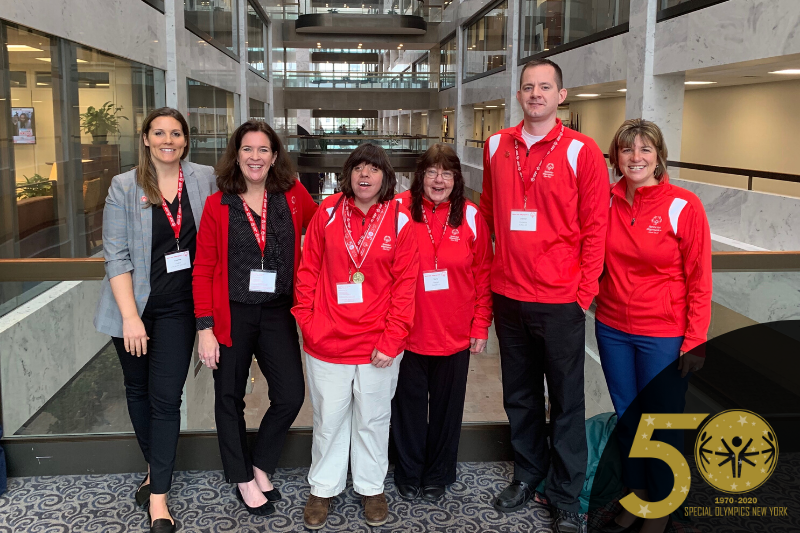 "Our athletes and youth leaders are leading us in a world-wide revolution of inclusion, a collective fight to end discrimination for people with intellectual disabilities," said Tim Shriver, Chairman of Special Olympics. "Part of our collaborative fight includes the U.S. government's support not only to help fund critical programming, but to also preserve laws guaranteeing the rights and full participation and integration of people with intellectual disabilities into our society."
"Special Olympics programming in New York and around the world changes lives every single day," said Hengsterman. "Our athletes are healthier, they have more confidence, and they make friends they are not likely to have made if they didn't participate in Special Olympics—this is especially true of our Unified athletes and partners. Special Olympics athletes are showing the world what true inclusion looks like and why it's important. Even after 50 years, we have so much more work to do to reach all of New York's communities and those globally. We are proud to be on Capitol Hill today to share this urgent message and ensure continued support."
Joining Special Olympics athletes was Special Olympics Global Ambassador and WWE Superstar "Big Show," aka Paul Wight. "I have deep respect for Special Olympics athletes and am excited and honored to participate in my first Special Olympics Capitol Hill Day. These extraordinary athletes inspire me every day, and it is imperative we share their stories with decision-makers to advocate for health and education funding."
In more than 7,500 Unified Champion Schools across the country, Special Olympics has trained and mobilized youth leaders and educators to create more inclusive schools by involving students with ID in all aspects of school life. Social inclusion is promoted by bringing together young people with and without ID on sports teams (Special Olympics Unified Sports®), through inclusive student clubs, and by fostering youth leadership. As many as 3.6 million young people are taking part in these experiences, which are increasing acceptance of people of all abilities while simultaneously reducing stigma and bullying.
Under the current federal funding agreement that started in 2016, Special Olympics has reached more than 200,000 Special Olympics U.S. athletes with health programming, with a goal of reaching at least 500,000 by 2025. Special Olympics offers free health screenings and trains health professionals to offer year-round health access to people with ID in their home communities. Since the U.S. government's first investment in 1997 in the organization, Special Olympics has provided more than 900,000 health screenings and trained more than 116,000 health care professionals and students in the U.S. Globally, Special Olympics has provided over 2 million free health screenings in over 135 countries and trained nearly 280,000 health care professionals on the topic of people with ID.
In 2019, Special Olympics New York screened a record number of athletes. In partnership with clinical directors and volunteers across the state, more than 2,200 athletes received free screenings in disciplines such as eye care, dental care, podiatry, and more.
###
About Special Olympics New York
Special Olympics New York is the largest state chapter in the country, serving more than 67,000 athletes across New York with year-round sports training, athletic competition, and health screenings. The organization also partners with nearly 250 schools statewide to offer Unified Sports. All Special Olympics New York programs are offered at no cost to athletes, their families or caregivers. For additional information about Special Olympics New York, to learn more about getting involved, or to make a donation, visit www.specialolympicsNY.org.
SHARE THIS: