President & CEO Stacey Hengsterman Earns "2020 Above & Beyond Award"
Special Olympics New York President & CEO Stacey Hengsterman was recently named as one of 30 recipients of the 2020 Above & Beyond Award by City & State. The award recognizes women leaders in New York who have made notable contributions to society.
Also among this year's winners are the executive director of Citymeals on Wheels, the president of RPI, the chief of staff to Governor Cuomo, a New York City councilwoman, the executive director of New York State Nurses Association and several other accomplished leaders.
Below is the award recognition by City & State, which is is also available on the publication's website.
#
Stacey Hengsterman spent most of her career working in government relations at the State University of New York and then going home to champion the needs of her 15-year-old son Alex, who has Down syndrome. But in July 2018, when she took over at Special Olympics New York, her personal and professional advocacy skills collided. "I always had incredible respect for Special Olympics – so it was a great honor," she says. "But it is also personal for me."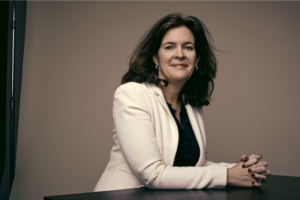 Hengsterman spends her time at Special Olympics New York trying to raise awareness about people with intellectual disabilities, a community that is not often visible to the public. She says most health care professionals are not prepared to provide information and support to the families of individuals with intellectual disabilities, and the organization is working to make information and health screenings more accessible.
"I learned more in my first week on the job about health disparities facing my son than I learned in 15 years of being his mom," she says.
One of the programs Hengsterman oversees is Unified Sports, an athletic program that works to increase social inclusion through shared sports training and competition.
"Our goal is to build a generation that values inclusion and diversity," she says. "Now our students, because of the Unified (Sports) movement, are growing up knowing that everybody really is the same. Everyone has a bit of difference, but it doesn't mean you can't be friends or teammates."
SHARE THIS: