NYS TROOPER MICHAEL O'BRYAN TO REPRESENT SPECIAL OLYMPICS NEW YORK AT WORLD GAMES IN ABU DHABI
O'Bryan to Run Prestigious Final Leg of the Law Enforcement Torch Run
Wednesday, Feb. 27, 2019
BUFFALO, NY – Michael O'Bryan of the New York State Police has been selected to represent Special Olympics New York at the 2019 Special Olympics World Games in Abu Dhabi, running the prestigious final leg of the Law Enforcement Torch Run. The announcement of his selection was made today at a press conference at Lawley Benefits Group.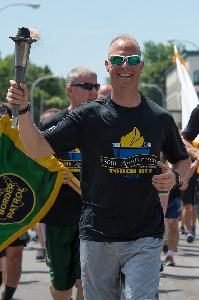 Trooper O'Bryan will be one of 83 law enforcement officers from 23 countries who will be carrying the Flame of Hope for eight miles per day for 14 days throughout the United Arab Emirates (UAE), and then lighting the cauldron at opening ceremonies March 14.
The 2019 Special Olympics World Summer Games will take place from March 14-21 at 11 venues throughout Abu Dhabi. More than 7,000 Special Olympic Athletes from around the world – including seven from New York – will compete in 24 summer sports. New York will also send two coaches as part of its delegation.
"The Law Enforcement Torch Run is instrumental in raising awareness and dedicating funds to support Special Olympics New York and the 68,000 athletes we serve across New York State," said Stacey Hengsterman, president & CEO of Special Olympics New York. "Trooper O'Bryan exemplifies our partnership with law enforcement. We are honored and deeply proud to have him as our representative at World Games."
"This honor has completely humbled me," said Trooper O'Bryan. "Thank you to all the athletes out there allowing me to carry and guard your flame to its final destination. Thank you New York LETR, family and friends for your support. I won't let you down."
"Mike and I have been friends for years," said John Berger, Partner, Lawley Benefits Group, a long-time and premier partner of the Western Region LETR. "I'm thrilled that he's been chosen to represent the Special Olympics New York Law Enforcement Torch Run. What an honor to be selected as one of only 83 officers worldwide. We are proud to support Special Olympics New York and the thousands of athletes who compete."
The Law Enforcement Torch Run is the largest grassroots fundraising and public awareness vehicle for Special Olympics in the world. In addition to carrying the Torch or the "Flame of Hope" into their local and state Special Olympic games, law enforcement officials organize and conduct additional fundraising initiatives such as Polar Plunges, merchandise sales, and other events. In 2018, more than $58 million was raised internationally through LETR events, with more than $2 million coming from New York.
Since 1987, law enforcement officers from around the world have participated in the Final Leg of the Law Enforcement Torch Run (LETR) prior to the Special Olympics World Summer and Winter Games. The tradition of the Final Leg Torch Run is for law enforcement officers representing their country, state and LETR, to act as "Guardians of the Flame" and carry the Special Olympics Torch and "Flame of Hope" to the Opening Ceremonies of the Special Olympics World Games.
###
About Special Olympics New York
Special Olympics New York is the largest state chapter in the country, serving nearly 68,000 athletes across New York with year-round sports training, athletic competition, and health screenings. The organization also partners with nearly 150 schools statewide to offer unified sports. All Special Olympics New York programs are offered at no cost to athletes, their families or caregivers.  Learn more at www.specialolympicsNY.org and #SpecialOlympicsNY.
About Lawley Insurance
Lawley Insurance is a privately-owned, independent regional insurance firm specializing in property, casualty, personal insurance, employee benefits, and risk management consulting. For more than 60 years, Lawley has developed customized property, casualty, surety and employee benefits insurance programs for businesses and municipalities of all sizes along with personalized protection for individuals and their families. Headquartered in Buffalo, NY, Lawley has branch offices across New York state, as well as Connecticut and New Jersey. To find out more, visit lawleyinsurance.com.
MEDIA CONTACT:
Robyn Armando, Vice President Marketing & Communications, (518) 930-4890; rarmando@nyso.org
SHARE THIS: