Mohawk Honda & Mohawk Chevrolet Donate Two Brand-New Vehicles To Special Olympics New York
The 2020 Honda Civic and 2020 Chevrolet Suburban will help Special Olympics New York provide more assistance to athletes
GLENVILLE, N.Y. – Mohawk Honda, a fourth-generation, family-owned Honda dealership, and Mohawk Chevrolet delivered two brand-new cars to Special Olympics New York on Tuesday. The cars are fully wrapped and branded for Special Olympics New York's 50th Anniversary.
Mohawk Honda and Mohawk Chevrolet have long supported Special Olympics New York in their mission of empowering and supporting athletes with intellectual differences with no cost to the athlete or their family. The donation of the cars is a cost-savings that can be translated into more programs and assistance to the athletes as they compete on the local, state and national level.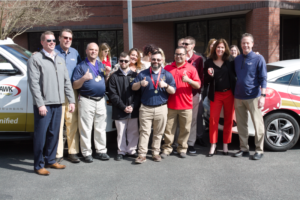 "Watching these athletes compete has been such a joy, and whether we are volunteering at a competition, assisting with their torch run, or making a donation, the thanks and appreciation we receive is genuine and heartfelt," said Jeff Haraden, president of Mohawk Honda and vice president of Mohawk Chevrolet. "We asked Special Olympics New York how we could best assist them in 2020 and providing these two cars was a no-brainer for us."
"We are overwhelmed and so grateful for the generosity of the Haraden family, Andy Guelcher, Mohawk Honda and Mohawk Chevrolet – they are true champions of inclusion," said Stacey Hengsterman, president and CEO of Special Olympics New York. "These vehicles will provide safe, seamless transportation for our athletes and sports equipment while also raising awareness through their stunning wraps and branding. We could not ask for a better gift as we celebrate the 50th anniversary of Special Olympics New York."
To celebrate 100 years of business in 2019, Mohawk Honda and the Haraden family gave more than $225,000 to local non-profits and their employees donated more than 11,000 volunteer hours including to Special Olympics New York.
Additional photos and video can be found here.
About Mohawk Honda:
Mohawk Honda, headquartered in Glenville, N.Y., is a full-service dealer offering sales, service, parts, accessories, and collision repair. The 43,000 square foot, state-of-the-art facility boasts a large selection of new, certified, and pre-owned vehicles to meet every potential buyer's need. Since the opening of its doors in 1919, Mohawk Honda has kept a firm commitment to its customers, offering a wide selection of vehicles and making the car buying process as quick and hassle-free as possible.
Mohawk Honda has received the coveted Honda Masters Circle Award four years running. This award recognizes the top 5 percent of Honda dealers in the nation for outstanding performance in sales and customer service.
Please visit www.mohawkhonda.com for more information or call 518-370-4911.
About Mohawk Chevrolet:
Mohawk Chevrolet, in Clifton Park, N.Y., formally Northstar Chevrolet is a full-service dealer offering sales, service, parts, accessories and collision repair.
Please visit www.mohawkchevrolet.com for more information or call 518-371-5400.
About Special Olympics New York
Celebrating its 50th anniversary in 2020, Special Olympics New York is the largest state chapter in the country, serving more than 67,000 athletes across New York with year-round sports training, athletic competition, and health screenings. The organization also partners with more than 170 schools statewide to offer Unified Sports. All Special Olympics New York programs are offered at no cost to athletes, their families or caregivers.
For additional information about Special Olympics New York, to learn more about getting involved, or to make a donation, visit www.specialolympicsNY.org.
SHARE THIS: