Meet Officer Greg Sassone of the Olean, NY Police Department
Monday, May 13, 2019
Since attempting the 2018 Trooper Ross Riley Torch Run and nearly passing out because he was overweight, Officer Sassone has been working his way back into shape. This April, he completed the run, down more than 80 pounds from the year before. He says his own success and determination was inspired by that of our athletes and his colleagues who support them through the law enforcement torch run year after year.
How do our athletes inspire you?
What inspires me the most about the athletes at the Special Olympics is their initiative to get up and go play! So many kids, adults included, are inactive and take for granted the ability to just go out and walk around. The athletes of the Special Olympics NY take pride in every sport they play, win or lose, because they know they are all winners for getting up and making it happen!
Why did you begin participating in the Law Enforcement Torch Run (LETR)?
The Torch Run is a great event for an even greater cause. That cause being The Special Olympics! My father, who has since passed, volunteered for Special Olympics. He always taught me to lead by example, because actions speak louder than words.
What was your father's connection to Special Olympics?
My father was a volunteer for the Special Olympics many years ago. He would be there to support the athletes and encourage them. I think it's important to have encouragement because we sometimes need that little extra boost to get through the task at hand.
Tell us what LETR has done for you, personally.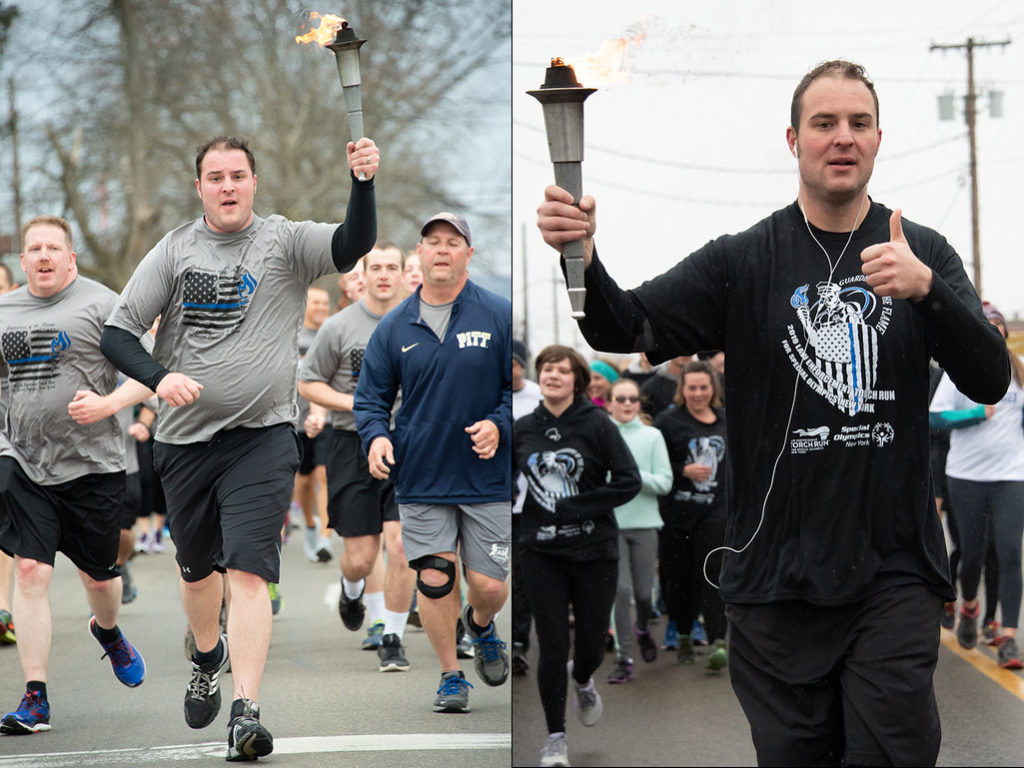 The 2018 Trooper Ross Riley Torch Run in Olean was my first time attempting the event. At that point in my life, I had gotten unacceptably out of shape and overweight. I had not attempted to run in almost three years. My weight was at about 325. I stand at 6 foot 5 inches, so I am always on the larger side. I was able to hold my own pace for about a mile. I held the torch and passed it on to the next person, then I started to fall back in the line. I got so far back and eventually stopped. I flagged down one of the support vans following the group and had to get in.
In the van I felt sick, to the point of almost passing out. The van made a stop so I could get out and get fresh air, and a State Police car took me to the finish line. At the finish line, I nearly passed out again. After a few minutes, I was able to make my way to opening ceremonies for the Special Olympic NY games. There, I realized how great this event was. All these great people coming together to bring joy to those who aren't able to do things that many people take for granted. It is also a great way to remember and honor Trooper Riely. I never got a chance to meet him, but I know he would have been running right with us and maybe even helping me get up off the ground.
What happened next?
After that, I knew I had to make some changes in my life. I had to become healthier. I had let myself go for almost three years and my everyday life was becoming uncomfortable. Being a police officer was also becoming rough, due to the equipment I had to wear. I could not even bend over to tie my boots.
That vision of the athletes kept coming back to me. I started off by changing my diet. I stopped drinking soda and drank more water. I cut down my sugar intake and tried not eat late at night when I got home from work. On the fitness side, I started off by just going for walks on the Allegany River trail. After a few weeks, I would jog a little bit and then walk some more, about 4 to 5 times a week. I knew I could get back to the level I was when I graduated the police academy in 2013. I just needed a little patience, hard work and dedication. I knew it would not be easy, but nothing worthwhile ever is.
After a few months, I was starting to run a mile, and then another. I would run as long and as fast as I could, trying to improve each time. By fall, I was running 3 miles without stopping. I was also noticing my weight drop, due to eating better and exercising. Around Christmastime, I was down about 50 pounds. My clothes were getting bigger, and I had to get my work uniforms altered to fit me! I also felt better overall. I could bend over and tie my boots again! My police equipment was no longer a burden.
So, I marked my calendar and looked forward to the 2019 Trooper Ross Riley Torch Run! When the run finally came, I was not only able to finish the race, but ironically, I ended up carrying the torch pass the spot from 2018, where I had to stop! At this point I am down to about 250 pounds and I look forward to keep running and working out. I have the 2020 Torch Run in my sights now!
Any advice for our athletes or others looking to support them?
I firmly believe actions speak louder than words, like my father taught me. Anyone can say they are going to do something, but the true leaders are the ones who go out and get the job done! My father taught me to never give up, never quit. We may have to take a step back from our goals for bit, but we can never lose sight of them. I still get tired when I run my 3 to 4 miles, but I know if I keep my legs moving, I will reach the end sooner rather than later. We gotta keep grinding away! No matter what your goals or dreams are, NEVER GIVE UP! As Christopher Reeve once said, "So many of our dreams at first seem impossible, then they seem improbable, and then, when we summon the will, they soon become inevitable."
Have you considered being a Special Olympics NY coach?
Coaching for the Special Olympics would be a great honor, even helping out in the smallest of ways would be an honor! If everyone did a little, it would do a lot!
Be a part of the LETR in New York this year, by participating in a local run or supporting the effort online. Details here.
SHARE THIS: