LAW ENFORCEMENT TO CARRY THE "FLAME OF HOPE" THROUGH COMMUNITIES IN EVERY REGION LEADING UP TO SPECIAL OLYMPICS NY SUMMER GAMES
Tuesday, April 30, 2019
Dinosaur Bar-B-Que Offers Statewide Sponsorship of 2019 Torch Run Season
Schenectady, NY – Members of law enforcement from more than 470 agencies and offices throughout New York State are teaming up with Special Olympics New York athletes, families and supporters again this year to carry the "Flame of Hope" through communities in every region leading up to Special Olympics New York Summer Games, which will be held in Dutchess County June 14-15.
Members of the public are encouraged to join the Law Enforcement Torch Run (LETR) in their local community as a show of support for Special Olympics New York and the message of inclusion that the statewide organization represents.
#FollowTheTorch: A complete schedule of Torch Runs is available online here.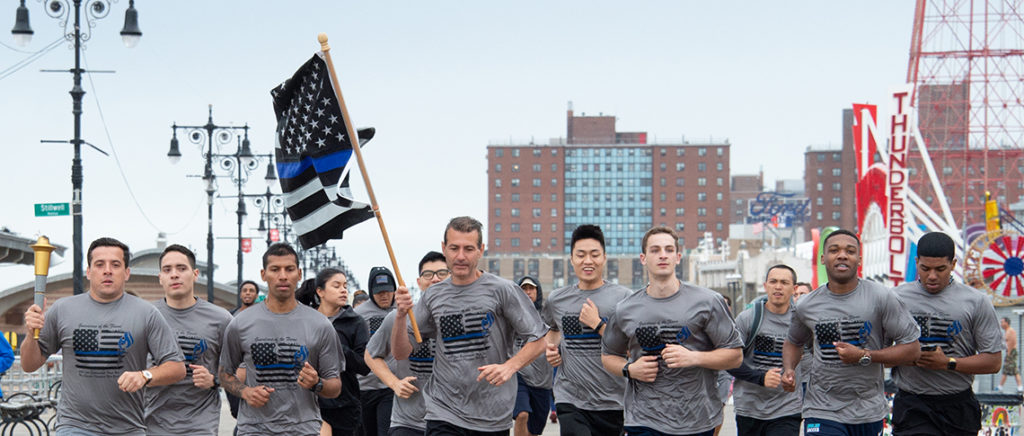 LETR originated in Kansas City in 1981, when a police chief sought to have his department more involved in supporting the special needs community. Today, LETR is the largest public awareness and fundraising group to support Special Olympics worldwide. More than 6,000 members of law enforcement partner with Special Olympics New York annually.
As a sponsor of the Special Olympics New York Law Enforcement Torch Run, a $10,000 investment, Dinosaur Bar-B-Que will support all 56 legs of the Torch Run in 2019 throughout New York.
Members of the public who cannot attend a Torch Run but would like to support the event with a monetary donation may do so at: https://www.specialolympics-ny.org/FollowTheTorch/.
The next leg of the Law Enforcement Torch Run will be held Saturday, April 27, at Niagara University in Western New York.
###
About Special Olympics New York
Special Olympics New York is the largest state chapter in the country, serving nearly 68,000 athletes across New York with year-round sports training, athletic competition, and health screenings. The organization also partners with nearly 150 schools statewide to offer unified sports. All Special Olympics New York programs are offered at no cost to athletes, their families or caregivers.  Learn more at www.specialolympicsNY.org and #SpecialOlympicsNY.
MEDIA CONTACT:
Robyn Armando, Vice President Marketing & Branding, (518) 930-4890, rarmando@nyso.org
SHARE THIS: