Guest Blog: Inclusion is the Golden Rule
Riley Park is a student and Unified partner at Horseheads High School. Below is a paper she submitted for class about her experience playing Unified. It's such an uplifting read that we couldn't help but share with our community. Enjoy!
#
Students of all abilities have the power to positively impact their school communities by promoting social inclusion. You may have heard of Special Olympics and Unified sports, but you may be wondering what they really do; you may also be curious as to why someone would choose to participate in these events, along with how these events have changed their lives? Special Olympics and Unified sports have had very positive impacts on many people's lives but they have created a life changing experience and an amazing impact on many aspects of me and my life.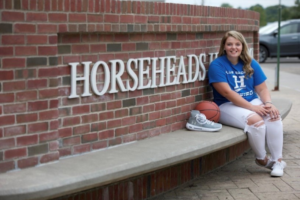 Unified sports are sponsored by Special Olympics to empower youth of all ages and adult educators to be leaders of change. By playing and learning, together we can create a more inclusive world and school community. These are high school varsity sports that team up students both with and without intellectual and physical disabilities. These sports include and focus on each and every player on the team. My high school has two Unified sports teams; I have been on the basketball team for three years and on the bowling team for a year. I have also been on our Youth Activation Committee that oversees the Unified program for three years, two of those years as an officer. In my junior and senior year, I have been a social media representative as well as being secretary in my senior year. This year I have set just a few very high goals for myself that I would love to achieve by the end of my senior year.
My biggest goal when participating in these events was to make the players stronger and come out with amazing memories that we are all able to share and never forget but it is so much more than that. I know how rewarding it is when I can help someone else have a wonderful experience and see them succeed. It is amazing to walk down the hallways in school and have my teammates ask me if they can walk me to my class or if I can walk them to their class. It always made my heart skip a beat when the player's parents on my teams would come to me and tell me that their children would go home and not stop talking about me and how much I help them during practice. This past school year was my high school's inaugural Unified bowling season, our team was the Section IV champions. One day after one of our first practices, one of my coaches looked at me and said, "Riley, I absolutely love the way you treat the players and the way they look at you is very different from anyone else." I took this compliment to heart and flourished from it. This brought me to a huge realization that what I am doing is really helping others. I am not one to do things in my life to receive recognition but during this bowling season I found something in myself that I had never seen before. I was shown that I can fulfill my dreams by working and helping others while participating in events that bring me out of my comfort zone and may make me a little scared.
Being involved with Special Olympics and Unified this past three years has enhanced my personality tremendously. During my first year of helping with Unified, I was offered this amazing opportunity to volunteer at practices for a Special Olympics soccer team that would be attending a competition in Rochester. This was by far the biggest step I had ever taken. I went into this experience not knowing anyone I would be working with and I was extremely nervous because I had never done anything like this. Although I was a little apprehensive, I had the opportunity to use my athletic abilities and patience with the athletes to help me get through my inexperience, and at the end of the day I had so many amazing stories that I will be able to share in years to come. My favorite memory is being able to see the expressions on the players' faces after each play they would make. Regardless of the outcome, they were always happy to be there, and how they would encourage and congratulate each other left me awestruck. This event inspired me so much that I went on to become a certified Special Olympics Junior Coach for this year.
Being involved in these events and sports has brought me to see that I can draw on my talents, and how the "Golden Rule" applies to treating others the way you would like to be treated can change the world. Inclusion can be promoted and strengthened by students from all over the world that want to strive to make a positive impact on not only their little home communities but something much bigger. It really takes a special type of personality and kind heart to increase the inclusion of these participants' abilities, actions and kind hearts, one practice at a time.
#
If you would like to bring the Unified movement to your school, please click here.
SHARE THIS: