GOVERNOR CUOMO ANNOUNCES STATE LANDMARKS TO BE LIT RED IN RECOGNITION OF SPECIAL OLYMPICS "GLOBAL DAY OF INCLUSION"
Governor Mario M. Cuomo Bridge, Kosciuszko Bridge and Niagara Falls to be Illuminated on Saturday
New York is Home to the Largest Special Olympics Chapter in the U.S.
Friday, July 19, 2019
Governor Andrew M. Cuomo today announced the Governor Mario M. Cuomo Bridge, the Kosciuszko Bridge and Niagara Falls will be lit red on Saturday, July 20 in recognition of the Special Olympics "Global Day of Inclusion." The Special Olympics' mission is to end discrimination against people with intellectual disabilities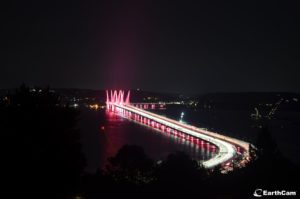 worldwide and create inclusive communities.
"At a time when some only seek to sow division in our country, New York once again leads the way by celebrating inclusion," Governor Cuomo said. "As the country's most diverse state and home to its largest Special Olympics chapter, New York is proud to be a leader in the acceptance of all people. I have directed that the state's iconic landmarks be lit in red in honor of our statewide participation in Global Day of Inclusion to make it clear that all are welcome in New York."
New York is home to the largest Special Olympics chapter in the nation, serving schools and communities across the state. Special Olympics New York, which will celebrate its 50th anniversary in 2020, serves more than 67,000 athletes – providing children and adults with intellectual disabilities opportunities to play 23 sports year-round.
Special Olympics New York President and CEO Stacey Hengsterman said, "It fills our hearts and inspires our community to see these stunning New York State landmarks light up red as we celebrate a Global Day of Inclusion. In signaling New York's support, Governor Cuomo continues to help us change the game for children and adults with intellectual disabilities through the power of inclusive sports and communities. Thank you as well to our partners at the Thruway Authority and Niagara Falls for lending their beautiful landmarks to this movement."
Special Olympics New York kicked off a Global Week of Inclusion Sunday, July 14, leading the Disability Pride Parade in New York City.
Special Olympics New York also partners with more than 150 schools and communities statewide to offer Unified Sports, a program that embodies inclusion by bringing students with and without ID together on the same team. In Unified Champion Schools across the state, student athletes and coaches are leading an inclusion revolution, as well as organizing school activities and events that promote a climate of inclusion where students of all abilities are welcome and accepted.
All Special Olympics New York programs are offered at no cost to athletes, their families or caregivers. To learn more about the organization, as well as volunteer or sponsorship opportunities, visit specialolympicsny.org.
Founded in 1968, the Special Olympics movement has grown to more than five million athletes and unified partners in more than 170 countries. With the support of more than one million coaches and volunteers, Special Olympics delivers 32 Olympic-type sports and over 108,000 games and competitions throughout the year.
###
SHARE THIS: