ELLIOT DE NIRO FEATURED IN "SPECIAL OLYMPICS: 50 GAME CHANGERS" SERIES ON ESPN
May 1, 2019
Inspired By Her Son, Grace Hightower Joins Special Olympics New York Board of Directors
NEW YORK CITY, NY — Elliot De Niro was featured today on ESPN as part of the "Special Olympics: 50 Game Changers" series, which was launched by the sports network last year in coordination with the 50th anniversary of Special Olympics. The series of short films highlights game changing people and moments that have driven, shaped and reflected the Special Olympics movement.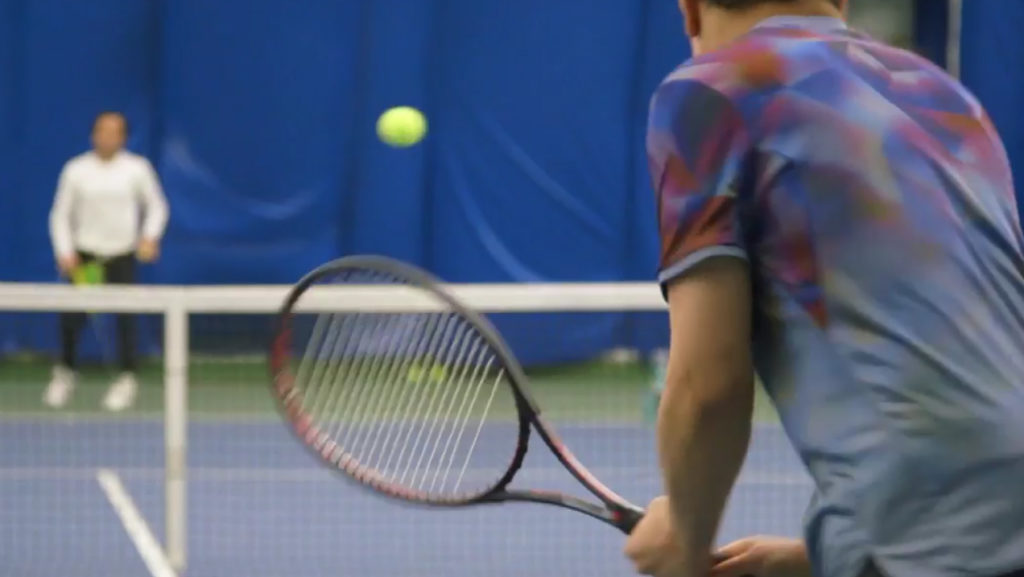 Watch the Elliot De Niro video here.
Elliot, the son of Robert De Niro and Grace Hightower, began playing tennis as a child. In the film short, his parents say the experience has helped him develop mentally, emotionally, physically and socially.
Elliot's progress inspired Hightower to join the Special Olympics New York Board of Directors earlier this year. In this role, she is raising awareness by sharing her son's story and helping the organization reach more families in New York City.
"That is the gift you give your child," says Hightower in the film short. "To be able to succeed within themselves, and give them that motivation, that confidence of knowing who they are. When they have that, they can do so much."
"Finding things for kids to do is a hard part of the whole situation with parents of kids with special needs," says De Niro in the film. "[Playing tennis] helps him. He is more confident when he sees that he is actually good at this. That's the best self-motivator anyone can have."
The video also highlights Elliot's friendship with Max Richter. Working out together at their mothers' urging, Elliot and Max have built a connection that has transformed both of their lives, exemplifying the power of sport and the vision of Special Olympics.
"Special Olympics changes the game for athletes like Elliot and Max around the world, improving their health and well-being, and building their confidence, by harnessing the powers of sport and friendship," said Special Olympics New York President & CEO Stacey Hengsterman. "We are proud and so thankful to be working with Grace to provide the opportunity of Special Olympics programming for athletes with intellectual differences across New York."
Special Olympics: 50 Game Changers is a series from ESPN, in collaboration with Special Olympics International, celebrating the 50th Anniversary of the Special Olympics movement. Launched in July 2018 and running for a full year, the multimedia initiative has featured a 60-minute documentary special about the Special Olympics movement as well as a series of film shorts that tell the stories of the game changing people and moments that have helped drive, shape and reflect the Special Olympics movement by, from and for people with intellectual disabilities.
###
About Special Olympics New York
Special Olympics New York is the largest statewide Special Olympics chapter in the country, serving more than 67,000 athletes across New York with year-round sports training, athletic competition, and health screenings. The organization also partners with nearly 150 schools statewide to offer unified sports. All Special Olympics New York programs are provided at no cost to athletes, their families or caregivers. Learn more at www.specialolympicsNY.org and #SpecialOlympicsNY.
About ESPN and Special Olympics
ESPN is proud of its relationship with Special Olympics, which spans more than 33 years and includes a shared belief in the power of sport and shared dedication to promoting inclusion. Since 2014, ESPN and Special Olympics committed to using their alliance and the power of sports to promote social inclusion and acceptance through a two-part agreement: an extension, and expansion, of ESPN's Global Presenting Sponsorship of Special Olympics Unified Sports® and a multi-year global programming agreement.
ESPN has served as the Official Media Partner for the 2019 Special Olympics World Games in Abu Dhabi, the 2018 Special Olympics USA Games in Seattle, the 2017 Special Olympics Winter World Games in Austria, the 2015 Special Olympics World Games in Los Angeles and the 50th Anniversary of Special Olympics in Chicago.
ESPN grants support Special Olympics Unified Sports, as well as other initiatives, and extends and expands a role ESPN has held since 2013. Dedicated to promoting social inclusion through shared sports training and competition experiences, Special Olympics Unified Sports joins people with and without intellectual disabilities on the same team. It was inspired by a simple principle: training together and playing together is a quick path to friendship and understanding. With support from ESPN and others, Special Olympics has grown this innovative and inclusive program to more than 1.6 million participants. As part of the continued support of Unified Sports, ESPN will invest in Special Olympics' goal to build Unified Sports programming and resources in 10,000 schools by 2020 and ensuring 100,000 coaches receive new/renewed sports certifications by 2020.
ESPN employees have been engaged in volunteerism with Special Olympics for over 33 years.
MEDIA CONTACT:
Casey Vattimo, Senior VP of External Relations, cvattimo@nyso.org, 518.992.4820
SHARE THIS: