DELAWARE NORTH PRESENTS SPECIAL OLYMPICS NEW YORK WITH $50,000 CHECK TO SUPPORT GROWTH OF UNIFIED SPORTS IN WESTERN NEW YORK

Friday, May 31, 2019
Officials Aim to Make Western New York the Country's Most Inclusive Community
Buffalo, NY – Delaware North Co-CEO Lou Jacobs today presented Special Olympics New York President and CEO Stacey Hengsterman with a $50,000 check to support the growth of Unified Sports in Western New York. Officials say that, with continued support, Western New York could become the most inclusive community in the country.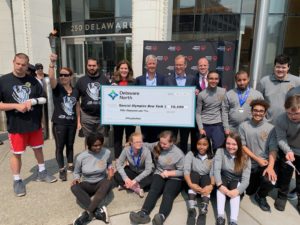 Unified Sports include participation by students with and without intellectual disabilities playing on the same team. Statewide, Special Olympics New York partners with more than 145 Unified Champion Schools (UCS) and 6,000 students who have committed to its three-component UCS model of Unified sports, inclusive youth leadership, and whole school engagement to create school and community climates of acceptance and inclusion.
There are 25 Unified Champion Schools in Western New York that engage more than 1,500 students.
"Unified is the fastest growing sports movement in the world, thanks to students, coaches, and administrators who are leading an 'inclusion revolution' – ensuring students with all abilities have an opportunity to represent their school by playing a sport," said Hengsterman. "Western New York is on pace to become the most inclusive community in the country, with continued support from leaders like Delaware North who recognize the value of promoting acceptance and inclusion in and out of school."
"Delaware North is thrilled to support Special Olympics athletes because we know that sports have a special way of bringing people together," said Jacobs. "Special Olympics New York ensures that everyone in our community has the opportunity to participate in fun, inclusive, and confidence-inspiring events. We look forward to cheering on these incredible athletes throughout the year."
"Special Olympics New York currently serves more than 67,000 athletes across New York State who learn to compete, but also understand that winning isn't everything, and that giving your best effort goes a long way in becoming great," said Senator Tim Kennedy. "Thank you to Delaware North for ensuring these athletes will continue to grow, stay active, and foster friendships that will last forever."
Cheektowaga Central High School Unified Basketball Coach Brian Pane, who joined executives at today's press conference, said, "The Unified Champion School movement is a joyful and powerful experience for all involved. In three years, the Unified program has grown to become one of the largest sports programs in our school, and every ounce of effort that we have put into it has been worth it."
###
About Delaware North
Delaware North is one of the largest privately-held hospitality companies in the world. Founded in 1915 and owned by the Jacobs family for over 100 years, Delaware North has global operations at high-profile places such as sports and entertainment venues, national and state parks, destination resorts and restaurants, airports, and regional casinos. Our 55,000 employee associates are dedicated to creating special experiences one guest at a time in serving more than 500 million guests annually. Delaware North has annual revenue of more than $3 billion in the sports, travel hospitality, restaurants and catering, parks, resorts, gaming, and specialty retail industries. Learn more about Delaware North at www.delawarenorth.com.
About Special Olympics New York
Special Olympics New York is the largest state chapter in the country, serving more than 67,000 athletes across New York with year-round sports training, athletic competition, and health screenings. The organization also partners with nearly 150 schools statewide to offer unified sports. All Special Olympics New York programs are offered at no cost to athletes, their families or caregivers.  Learn more at www.specialolympicsNY.org and #SpecialOlympicsNY.
MEDIA CONTACT: Casey Vattimo, cvattimo@nyso.org, 518.992.4820
#PlayUnified #LiveUnified
SHARE THIS: