Consul General of the United Arab Emirates New York Joins Special Olympics New York Board of Directors
His Excellency Abdalla Shaheen Brings International Leadership to Prominent Statewide Nonprofit
New York City, NY – Special Olympics New York and the Consulate General of the United Arab Emirates (UAE) in New York today announced that His Excellency Abdalla Shaheen has joined the Special Olympics New York Board of Directors. The appointment follows last year's announcement of a long-term partnership between the Consulate and Special Olympics New York to promote inclusive communities throughout the state and around the world.
The UAE hosted the 2019 Special Olympics World Games, the first to take place in the Middle East. It was the largest sporting and humanitarian event of 2019, featuring 7,500 athletes and 20,000 registered volunteers from more than 190 countries. The UAE refers to people with intellectual disabilities as "people of determination" in recognition of their achievements in different fields. The country has implemented national policies to protect and empower these individuals through services and facilities in the areas of education, health, jobs and more.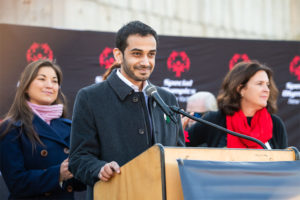 "The leadership and expertise that His Excellency brings to the Board will have tremendous impact as we celebrate our 50th anniversary year and continue our work to make New York the most inclusive state in the country," said Special Olympics New York President & CEO Stacey Hengsterman. "It is an honor and privilege to welcome HE Shaheen on behalf of our 67,000 athletes and Unified partners across New York."
"We are proud to welcome Abdalla Shaheen to the Special Olympics New York Board of Directors," said Board Chair Patricia Martinelli, Esq. "His Excellency adds an international perspective and connects our work here in New York with that of the global movement to inclusion in a way that we have not fully engaged in previously. We are all looking forward to working with him."
"Under the leadership of Stacey Hengsterman, Pat Martinelli and my colleagues on the Board, Special Olympics New York is becoming the model for what Special Olympics chapters worldwide should strive to be – leaders of a movement that is eliminating intolerance and replacing it with acceptance, kindness and generosity toward people of determination," said HE Shaheen. "I look forward to continuing the UAE's support of this powerful movement as a member of the Special Olympics New York Board of Directors."
The Special Olympics New York Board of Directors is the governing body of the largest statewide Special Olympics chapter in the country. Responsibilities of the Board include upholding the mission and vision of Special Olympics New York in support of overall operations, individual programs, and the athletes, coaches, volunteers and communities served by the organization, ensuring fiscal integrity as well as ethical and legal compliance, and engaging in fundraising activities. The Board of Directors includes diverse representation reflective of those served by Special Olympics New York, including athletes as well as representatives from sectors such as law enforcement, schools and the sports community.
His Excellency Abdalla Shaheen Biography
His Excellency Abdalla Shaheen was appointed in April 2019 as Consul General of the United Arab Emirates in New York. Shaheen works to promote the important UAE-US bilateral relationship and expand business and cultural ties in New York and the Eastern US region. Consul General Shaheen also serves as a liaison for US corporate and government officials and as a resource for UAE Nationals residing in the East Coast area.
Prior, Consul General Shaheen worked closely with Her Excellency Reem Al Hashimy, UAE Minister of State for International Cooperation, and with His Highness Sheikh Abdullah bin Zayed Al Nahyan, UAE Minister of Foreign Affairs and International Cooperation. In addition, Consul General Shaheen liaised with foreign officials and Ambassadors in the UAE as well as Emirati Ambassadors abroad. He also established strong relationships with UAE officials from business and government entities, including the UAE's Supreme Council for National Security, Emirates Diplomatic Academy, Emirates Foundation for Youth Development, Abu Dhabi Fund for Development (ADFD), National Defense College, and the Education and Human Resources Council.
Consul General Shaheen was born and raised in Sharjah, UAE. He received his Bachelor of Science in Business Administration from Embry-Riddle Aeronautical University, Daytona Beach.
###
About Special Olympics New York
Special Olympics New York is the largest state chapter in the country, serving more than 67,000 athletes across New York with year-round sports training, athletic competition, and health screenings. The organization also partners with more than 220 schools statewide to offer Unified Sports. All Special Olympics New York programs are offered at no cost to athletes, their families or caregivers. For additional information about Special Olympics New York, to learn more about getting involved, or to make a donation, visit www.specialolympicsNY.org.
SHARE THIS: