Celebrating Black History Month with the Special Olympics New York Community
To celebrate Black History Month, we spotlighted four members of our community all February long. Meet Marilyn, Ceylane, Andra, and Omar in this post!
Omar Barry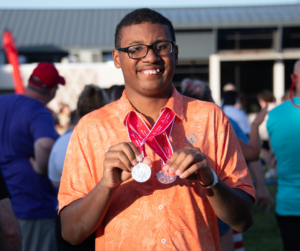 Hailing from Binghamton, Omar has been a Special Olympics New York athlete from a young age, starting when a teacher invited him to join. Since then, he's participated at the local, regional, and even national level. Last June, he competed at
USA Games
in Orlando, earning several medals in the Pentathlon.
"Special Olympics has changed my life ever since I first joined," said Omar. "I made so many new friends."
Omar competes in several sports, including cross-country running in the fall, floor hockey and Alpine skiing in the winter, and track & field in the summer. His coaches describe him as "always positive and hardworking."
Omar recognizes the importance of this month. "Black History Month means so much to me and many other African-Americans," he said. "Never let anyone shame you for being Black. Always stand up for yourself."
Marilyn Best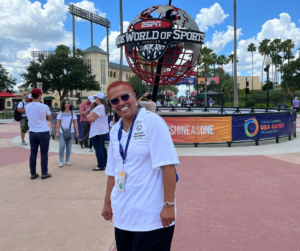 We're especially thrilled to highlight Marilyn this month because she's our Coach of the Year nominee for the New York City Region! She's been with us since 1984, the same year she started working at New York State's Office for People with Developmental Disabilities (OPWDD).
"With my love of sports and my love for working in the IDD field," Marilyn explained, "I decided to become a Special Olympics coach."
She's coached numerous sports with us, including basketball, softball, bocce, track & field, floor hockey, and volleyball, leading teams to the local, super regional, and national levels. All that experience has been life-changing.
"My athletes are considered part of my family. I watch their growth, skill development, determination, and willpower. I'm thankful and grateful for the accomplishments the athletes have made in different sports."
Marilyn also told us how honored she is to celebrate Black history this month.
"Our ancestors fought for us," she said. "We must show them respect and pay tribute to the continued struggle. We can start by supporting Black-owned businesses and teaching the youth how to take it further. Finally, this is the time to listen to our children. We can learn a lot from them."
Andra Espinoza-Hunter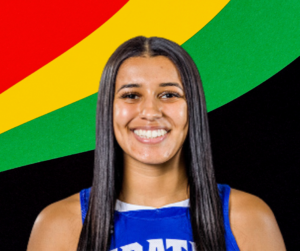 As the Associate Director of Program, School & Community in the New York City Region, Andra focuses on building grassroots engagement in our state's most populous area.
"In my first few months working here, I was tasked with rebuilding our Bronx community," she said. "I spent nearly every weekend in July attending our Bronx Eagles softball practices. The relationships I've formed with our athletes is incredible, and they inspire me to become the best version of myself."
Andra got her start working with people with disabilities during her undergrad years at Seton Hall University.
"I often volunteered with children who had intellectual disabilities and immediately knew I wanted to pursue a career in this field," she explained. "Once the position at Special Olympics NY opened, I just knew I had to apply. That's how I got here today!"
When asked about the importance of this month, Andra was effusive.
"Black History Month is a celebration to our ancestors, their excellence and their motivation to always strive for greatness despite the constant struggle they've faced from the moment we were brought to this country."
And what can everyone do to support the movement?
"Support Black-owned businesses within your community," Andra suggested. "Educate yourselves about our culture and struggles we've faced and continue to face. In the words of Yvette Clarke, 'We must never forget that Black History is American History. The achievements of African-Americans have contributed to our nation's greatness.'"
Ceylane Meyers-Ruff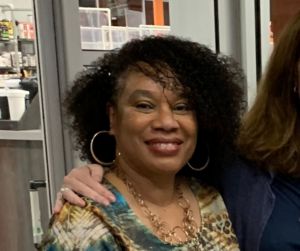 As the Chair of Special Olympics New York's Board of Directors, Ceylane Meyers-Ruff has a profound impact on our organization—and it goes both ways!
"Special Olympics NY has had a tremendous impact on my life," she said. "The best part of being on the Board is the opportunity to get to know the athletes and staff. I love that by going to games, fundraisers, and by working with the Athlete Leadership Council, I have been able to build friendships."

In Ceylane's words, Black History is more than a month.
"I live Black History everyday," she said. "As an African-American woman, I know that Black History is American History. As Americans, people of the African diaspora have made major contributions to this country and our story didn't start with slavery. People of many diverse backgrounds have contributed to the great country we have today. It is important that everyone is knowledgeable about that history. It is also important to recognize that diversity is strength, which is why every culture should be appreciated."
And what can Special Olympics NY do to support Black communities? Ceylane believes education is the key.
"While our athletes, coaches, and staff come from a variety of backgrounds, we need to do more to educate the public about our diversity," she said. "As we implement the Special Olympics New York Strategic Plan, we want people with intellectual and developmental disabilities to know that they are welcomed. At Special Olympics NY, we believe in you, we see your potential and we know that you are capable of great things. If you or someone you know isn't a part of Special Olympics NY, now is the time to get involved. And, to all of our African-American athletes, coaches, and staff, please know that you are making history and I am so very proud of you!"
Thanks for Celebrating With Us
As our spotlighted speakers have stated, Black History is more than just a month. Let's continue to advocate, celebrate, and illuminate, now and into the future!
SHARE THIS: