Special Olympics New York Expands Web Accessibility for People with Disabilities
Albany, NY – Special Olympics New York today announced that its website, specialolympicsNY.org, is more accessible as the result of a new partnership with accessiBe, a market leader in web accessibility. AccessiBe is devoted to educating the business community and general public on the importance of diversity, equity and inclusion of people with disabilities.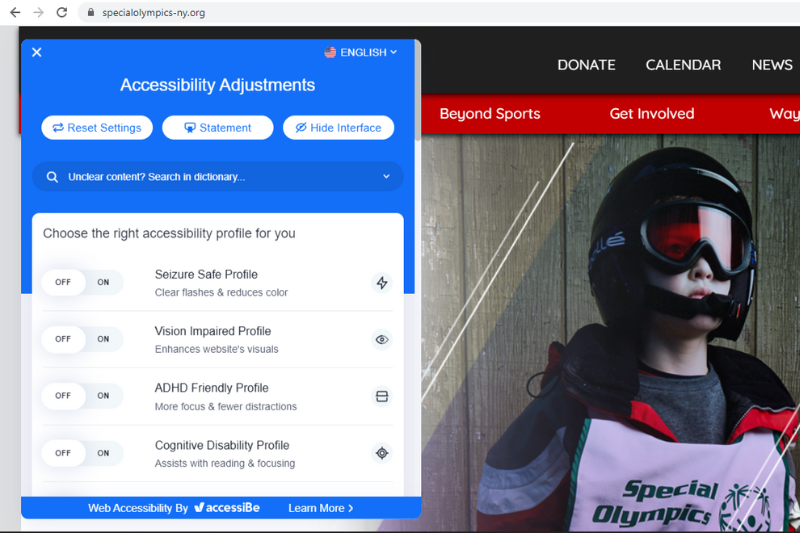 The company's Nonprofit Partnership Program delivers state-of-the-art web accessibility features to nonprofit organizations that serve people with disabilities at no cost. accessiBe is working with several Special Olympics chapters nationally and aims to continue collaborating with others throughout the world.
"Our website is visited by more than 2 million users annually – people seeking to become an athlete or to support people with intellectual disabilities by coaching, volunteering or making a donation," said Special Olympics New York President & CEO Stacey Hengsterman. "Thanks to accessiBe, we now give them an online experience that goes above and beyond ADA compliance and offers full accessibility for individuals with any disability. There's no better time to visit our website and join the movement."
"I couldn't be more proud to grow our strong partnership with Special Olympics New York," says Dekel Skoop, Co-CEO of accessiBe. "Together, we're advocating for a world that prioritizes online inclusivity, while promoting diversity, equity, and inclusion for disability-focused organizations, individuals, and change-makers through our platform that highlights their important message of awareness and education."
The accessiBe widget uses artificial intelligence to remediate an existing website to ensure compliance with the Web Content Accessibility Guidelines, in accordance with US Section 508 of the Federal Rehabilitation Act and the Americans with Disabilities Act (ADA) as well as all other global legislations for web accessibility. For more information, visit: www.accessiBe.com.
###
About accessiBe
accessiBe is the market leader in AI-powered web accessibility solutions and products. As a web accessibility hub, accessiBe provides different AI-Powered solutions for testing and remediating web accessibility, as well as various professional services aimed to create an inclusive web and help businesses comply with web accessibility standards and regulations i.e. WCAG and ADA. accessiBe's full suite of web accessibility solutions and products enable businesses of all sizes, from solopreneurs to large corporations, to take part in global inclusion efforts and to make their websites available to everybody, regardless of ability.
accessiBe's founding team has deep domain expertise in the field of web development and accessibility services and has developed the technologies in close partnership with users who have vision impairments or blindness, epilepsy, motor impairments, cognitive dysfunctions, and other disabilities. To learn more, visit: accessibe.com.
About Special Olympics New York
Special Olympics New York is the largest state chapter in the country, serving more than 31,000 athletes across New York with year-round sports training, athletic competition, and health screenings. The organization also partners with about 250 schools statewide to offer Unified Sports, where students with and without disabilities compete as teammates. All Special Olympics New York programs are offered at no cost to athletes, their families or caregivers. The organization has earned the Platinum Seal of Transparency from GuideStar.com, making it one of the most trusted charities in the business nationally. For additional information about Special Olympics New York, to learn more about getting involved, or to make a donation, visit www.specialolympicsNY.org.
SHARE THIS: