Off The Field (Fitness Activities)
Introduction to Training & Competition
Introduction to Training & Competition
We continue to offer athletes and coaches a safe opportunity to train and compete. We have selected a variety of fitness competitions that have been designed to offer athletes and Unified partners the opportunity to challenge themselves through performance measures of various fitness exercises.
These competitive events include general sport-readiness events that incorporate an opportunity for all athletes. This season will include a Fitness Heptathlon and Fitness Triple Combination allowing participants to train in-person, virtually, or a combination of the two! Participants can choose to compete virtually either individually or as a team with other athletes across the state!
Eligibility: Any registered Special Olympics New York athlete with a valid registration and medical form may participate. Athletes should register with their coach to participate. All coaches must be certified Class-A Volunteers. While an athlete may be participating with multiple training clubs, you can only be registered for competition as part of one club.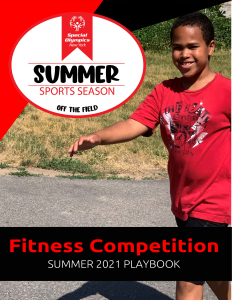 Train for Your Events: Please review the Fitness Competition Playbook below for all available at Home events. Contact your coach to connect with your regional staff to register. You can keep track of your scores using this Tracker.
Here are the Summer Season Off the field – Divisions
Submit Your Results: As you're training, your coach will track and submit your scores.

Recognition: All athletes participating in at Home training and competition will receive a signature t-shirt.
Celebrate: Join us for a Virtual Celebration in June.
| | |
| --- | --- |
| DATE | DUE ITEM |
| March 19th | Summer Season Opens |
| April 16th | 1st Registration Due |
| May 14th | Midseason Scores Due |
| June 11th | Final Registration Due |
| June 15th | Training Video & Photo Submissions Due |
| June 29th | Summer Season Celebration* |
*Final Results will be posted during the Virtual Winter Season Celebration